O projeto
Let's talk about grieving? 'Is a digital platform for information, inspiration and comfort for those who lost someone they love or for those who want to help a friend who is going through such a difficult phase. It is an attempt to break the taboo and turn this experience into a less sad and lonely moment.
This project is carried out voluntarily by people who go through grieving, and it doesn`t includea presential meeting or otehr services. What we do is offer content, tools, ways, a little light and love.
Quem somos?
Step 1: The Study

In the first phase of the project we have heard more than 170 people who also experienced the grieving and some experts on the subject. The study, conducted between November 2014 and June 2015, became a presentation that you can download here and a minidocumentary, you can see on the side, where we gather our key findings on the subject.

Step 2: Crowdfunding

The study showed us how urgent it was to create a space to talk about mourning. We launched a campaign and almost 300 people have contributed for this site to be launched.
About us
Rita, Mariane, Gisela, Amanda, Fernanda, Cynthia and Sandra. 7 friends who have experienced grieving and one day asked themselves: can we do something for friends and strangers who will go through this? That`s how the project began, in November 2014, and since then we hev been more certain that this work was really needed and urgent.
We are not experts and almost all of us work in communication and therefore the purpose of this space is to connect people and information in order to make the grieving process less lonely and unsupported.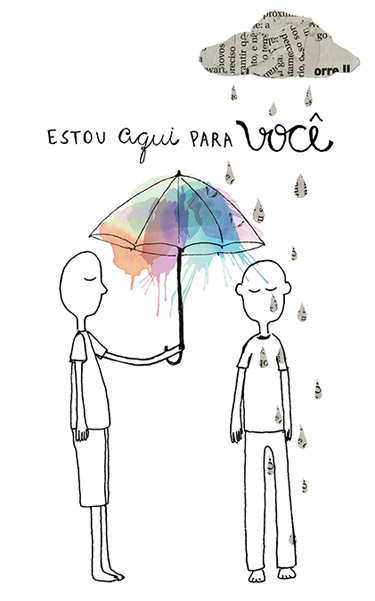 Voluntários
Esse projeto foi construído com o trabalho de muitos voluntários que se mobilizaram pelo tema. Muito obrigada a todos que já participaram.
Alin Kristin Gioielli, Andrea Fernanda Stoppa e Silva, Andrea Levy, Bárbara Albernaz de Faria, Camile Carolina Pereira da Silva Tesche, Carol Santos, Isabela Viero de Oliveira, Laura Capanema Pereira de Almeida, Marina Papi, Raoni Rodrigues e Rejane Bouzigues.
Caso queira ser voluntário, preencha o questionário aqui
Colaboradores
Esse projeto não teria se concretizado sem a participação de todas as pessoas abaixo que contribuíram pela Benfeitoria:
Monica Maciel, Wladimir Taborda, Jose Moura de Souza Filho, Ana Serra Madeira, Adriana Dornellas Coelho Duarte de Oliveira, Fabiane Aires, Dora Dardengo Adissi e Marilda Molina.
Cecilia Carli de Almeida, Marta Goes, Amadeu Maciel, José Eduardo Cazarin Silva, Maria Clara Rocha, Simone Maria Assis Varandas, Maiêutica Centro de Psicologia Aplicada, Fernão Ferraz Cosi, Priscila Sérvulo, Maria Anita Ferreira, Ana Cortat, Fernanda Maria Ferraz Figueiredo, Octavio Luiz Motta Ferraz, Fausto Motta Ferraz, Leticia Dardengo Adissi Fernandes, Luiz Fernando Figueiredo, Kaike Nanne, Wanda Prado Nogueira Engel, Eduardo Tesche, David Daniel Hertz, Denise Nogueira, Julia Ribeiro, Luiza Madeira, Mariana Fleury, Paulo Camossa Jr, Amanda Tinoco Cavalcante, Rosana Paoletti, Jussara Zanoli, Ivana Almeida, Bia Paes de Barros, Karen Ferreira Piroli, Luiza Nicolellis Cazarin Silva, Fernanda Gimenes, Mariana Palma Perosa, Ana Claudia Quintana Arantes, Juliana Barros Carvalho Ferrari, Leda Haidar, Marilisa Chiavarini Altavista, Thais Heredia, Claudia Issa, Tatiana Serpa Chiari, Clarisse Frechiani Lara Leite, Joana Marques Rodrigues, Andrea Stoppa, Paula Vernaglia Almeida, Carla Pitanga de Sá, Domingos Carelli Netto, Cassio Zanatta, Sócios Benfeitores, Diego Molina Lopes, Gustavo Adissi, Ligia Barreiro, Suzana Machado, Anaelena Pereira Lima, Camile Tesche, Paula Rizzo, Lívia Laranjeira, Anne Corbucci de Moraes, Lia Ribeiro Dias Calder do Amaral, Maria Eugenia de Gouveia y Duca, Valéria de Paula Martins, Fernanda Haikal Moreira, Georgia Barcellos, Ana Elisa Frecchiani, Fabiana Baracchini De Laurentiis, Tamara Foresti, Sabrina Guzzon, Camilla Massari, Victor Tsuji, Nancy Motta Ferraz, Vanessa Espelho do Nascimento, Maria Cristina Vautier Franco, Eduardo Nasi, Renata Perim Albuquerque Lopes, Julia Maria M. Tubel, Alessandra Cabral, Estela Sakihara, Jose Ângelo Dardengo, Letícia Pereira Simon, Renata Sette Machado, Naari S Vasconcelos, Valéria Correia de Almeida, Ana Lucia Correa da Silva, Solange de Oliveira, Claudia da Silva Pires, Monica Silveira Malheiros, Ana Carolina de Oliveira Santos, Claudia Comaru, Hellene Louise Silveira Fromm, Vlad Santos, Fernanda Ramalho, Alexia Souza, Luisa Rodrigues, Thais Chede Soares de Barros Barreto, Débora Nitta, Daniela Bortoli Bruhns Colacino, Elisabeth Cristina Naumovs, Ellen, André Fernandes, Marcelo Bartholomeu, Ricardo Prado Macedo de Carvalho, Marcos Dias Carregosa de Pinho, Januza Lemos, Brinea Marla Bernardes Borges, Fernando Abrão, Paula Mageste, Maria da Penha Pereira Tesche, Marisa Lewenthal Carrião, Gabriela Mayall, Juliana França, Daniela Minatogau Rocha, Jorge Tarquini, Ivana Almeida, Luiz Ricardo Villela Goncalves da Rocha, Marcus Vinicius Faustini , Dai Moraes, Ana Paula Costa, Parque Memorial de Goiânia, Ana Laura Reis Beckert, Camila Donice Borelli, Flavia Doria, Maria Amelia Juliao, Paulo Sérgio Campos Salles, Corinne Goldenberg, Flavia Neumann Nogueira, Alin Kristin Gioielli, Cíntia Figueiredo, Vera Lucia Kozlowski Tannenbaum, Laeticia Maris, Viviane Galvão, Zwy Goldstein, Fabricio Ofuji, Andrea Greca Krueger, Vera Cristina Wey, Lisette Santos Correa de Araujo, Lara Guimarães Taborda, Ana Margarida Voss Guimarães, Renata Raggi, David Nemer, Lara Azevedo, Alena Costa Marruaz, Priscila Cortat, Bruna Werneck Rosa, Elizabeth Bylaardt, Ana Beatriz Gemha, Carolina Maciel Kaderli, Milene Chaves, Fernanda Nastrigouveia, Thais Lazzeri, Paula Perim, Cintia Szczecinski, Leonardo Daher, Andrea Marques Miname, Rogerio Almeida, Fernanda Franco, Marisa Molina Lopes, Francesca Comini, Marcos Antonio Dardengo, Maira Moreno Machado, Maria Carolina Mateus, Carla Gullo, Mariana Corradi de Abreu, Paula Gabriel, Letícia Sertã Rezende, Patrícia Duarte Cançado, Sonia Kamitani Yokoro, Cassia Janys Saiovici, Denilson Lacerda, Kauê LC, Tania Camargo Celidonio, Aline Pereira Pimenta Távora, Renato Figueiredo, Eugenia Maria de Barros Leite Ferreira Lima, Juliana Maaz, Tiemy Akamine, Cintia Kury Souto, Marilia San Juan França Lopes de Oliveira, Sandra Muraki, Rejane Anele, Cláudia Mattos Andrade, Vania Penna Franca, Flavia Baptistini, Fernando Antonio de Almeida, Luiza Mendes de Almeida Portella, Aurea Dos Santos Mesquita, Caio Queiroz, Marlene Puzzoni Volpato, Sabrina Villar, João Correa Coutinho, Gabriela Delia, Valerie Tomsic, Fernanda Allegretti, Verônica Almeida, Angela Klinke, Lilian Calmon Hirdes, Álvaro Macedo da Silva, Claudio Roberto Bertotti, Amanda Mendes, Andreia Aparecida dos Santos Pinheiro, Rute Kogempa Garcia, Cristiane Aparecida Ramos, Gleise Fortes Santa Clara, Marcia Stephan, Luiza Barbosa da Silva, Isabela Crestana Filippi, Silvana Caetano, Marina Cuneo Aguiar, Luana Bonfim, Amanda Terra, Anita Tchalian Altman, Patricia Oyama, Lilian Cristina da Silveira Bezerra Andrade, Marcela de Souza Zappelini, Marcia Helena Aparecida Pires, Lucinha Carvalhaes de Carvalho, Flávia Monteiro, Paola De Almeida Prado, Marcia Barreiro Ribeiro Dottori, Maria Eduarda Razzera, Renata Valle Alzuguir, Marina Gouvêa, Veronica Gabriel, Ana Célia, Gustavo Vaz, Andre Torales, Carolina Maciel Kaderli, Viviane Ribeiro, Marcelo Arthur, Chiara Quintão, João Buono, Chana Rosenberg, Consuelo Rocha, Maria Dajuda Paulucio, Maria Cecilia Felice Godói, Cristiane Caires Geroti Arenas, Juliane Cristina, Paula Simões, Mariana Alzuguir, Ruth Hochheimer Engelberg, Maira Cenzi, Maira Liguori, Christina Guimarães Karathanos, Denise Silva, Ana Lucia Navarro, Wania Helena Bezerra Botelho de Gusmão Lobo, Ilka Porto, Mariana Kraemer, Mariana Caetano, Marilac Varginha, Heloisa Maria Freire Marconato, Wagner Ricardo Montor, Georgeta Gonçalves, Milena Marques, Sabrina Abreu, Camila Goytacaz, Jeanne Duarte Jorge, Patricia Honorio de Freitas, Adriana Aguiar Aparício Fogel, Stephanie Sacco, Adrielly Mantovani, Elisa Vidal, Susana Horta Camargo, Maria Theresa Prada Machado, Moema Machado Pereira Dardengo, Daniela Nahass, Dinah Sales de Oliveira, Fernanda Correa Nascimento, Maga Balog Goldstein, Bárbara Doro Zachi, Maria Beatriz Piquet Carneiro Petrus, Cristiana Giustino, Sandra, Priscila Okama, Christiano Bock, Antonio Sérgio Roveri, Raphaella Fagundes Daros, Vivian França, Cristiane Pereira Heal, Fabricio dos Santos Belgrano, Daniela Ribeiro de Oliveira, Camilla Barella e Ricardo Moreno.